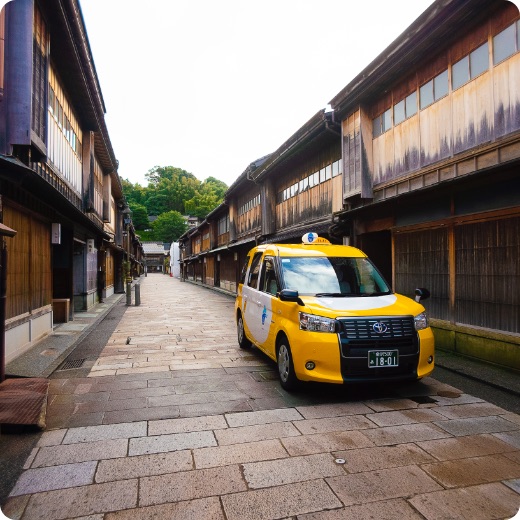 Popular Kanazawa Must-See Spot Tour
[ 5Hours ]
7 Must-See spot to visit In the city of traditional and modern Japanese culture
The popular spots that you just can't miss in Kanazawa are Kenrokuen Garden and Kanazawa Castle. The Nagamachi Samurai District, where the samurai used to live, and Higashi Chaya District, where geisha performed in traditional teahouses. Fresh seafood at Omicho Fish Market will satisfy your appetite. Myoryuji Temple as known for Ninja Temple will fulfilled your curiosity. In addition, You can immerse yourself modern art from around the world in 21st Century Museum.
Itinerary
Kenrokuen Garden - Kanazawa Castle - Nagamachi Samurai District - Higashi Chaya District - Omicho Fish Market - Myoryuji Temple (Ninja Temple) - 21st Century Museum of Contemporary Art, Kanazawa
Kenrokuen
Garden
One of the three most famous beautiful gardens in Japan.

Kanazawa
Castle
An Edo-period castle restored with respect for historical facts.

Nagamachi
Samurai District
The area preserves a historic atmosphere with its remaining samurai residences.

Higashi Chaya
District
Tea district where geisha entertain customers with songs and dances.

Omicho Fish
Market
A fish market called Kanazawa citizens' kitchen pantry.

Myoryuji
Temple
The temple earned its nickname because of its many deceptive defenses.

21st Century
Museum
Exhibits works of contemporary artists from all over the world.
Departure Time
Free You can choose a departure time convenient for you.
Note
Please note that the time spent at each spot and itinerary is subject to change depending on the pick-up/drop-off location and traffic conditions.
This itinerary is for reference only, and we will propose a travel plan to fit your time.
Facilities may not be available due to business hours and being closed.
Admissions, Sightseeing fees, Hotels, Tolls, and Parking fees are not included.
Please feel free to ask the driver if you need to change or add anything to your itinerary on the day.