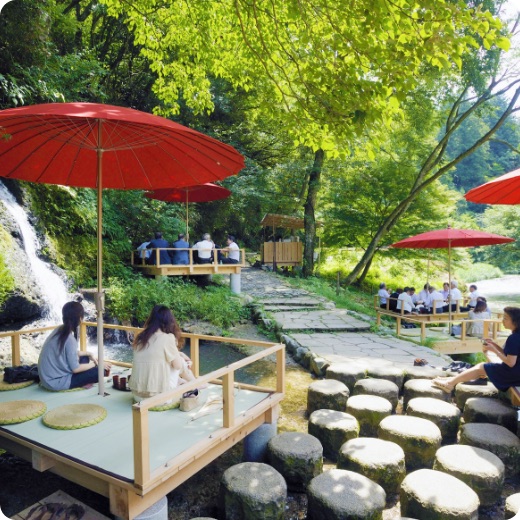 Exquisite Natural Beauty and Traditional Crafts of Kaga Tour
[ 6Hours ]
Feel the atmosphere that have been continued from ancient times to today.
The Kaga area is located between the Hakusan Mountains and the Sea of Japan. This area known for Kutani porcelain wares. Vivid colored pottery called Kutaniyaki attracts many fans from all over the world. Kakusenkei Gorge with its beautiful water and bridge is must-see attraction. Finally, we will take a walk around Natadera temple which has a tranquil atmosphere.
Itinerary
Kutaniyaki Art Museum - Kakusenkei Gorge - Natadera Temple
Kutaniyaki
Art Museum
The museum exhibits masterpieces of Kutani ware from 350 years.

Kakusenkei
Gorge
The must-see beautiful gorge in Yamanaka Onsen area.

Natadera
Temple
A beautiful temple of the Shingon sect of Japanese Buddhism.
Departure Time
Free You can choose a departure time convenient for you.
Note
Please note that the time spent at each spot and itinerary is subject to change depending on the pick-up/drop off location and traffic conditions.
Facilities may not be available due to business hours and closed.
Admissions, Sightseeing fees, Hotels, Tolls, and Parking fees are not included.
If you need to change or add anything for your itinerary on the day, please feel free to ask the driver directly.